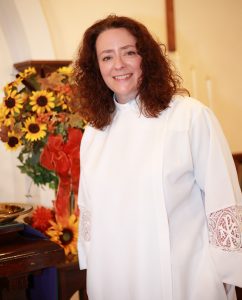 It's a blessing and privilege to serve!
As 1 Peter 4:10 (NRSV) says "Like good stewards of the manifold grace of God, serve one another with whatever gift each of you has received."  We all have amazing gifts!  One of my goals in serving the churches of the Penns Valley Charge is to prayerfully assist each person to discover the gifts God has given them and to encourage sharing those gifts for God's glory.
My husband, Brian, and I were married in Centre Hall in 1991. We are very proud parents of Penns Valley alums; Evan and Marisa.
Although I have always understood that Holy Spirit was with me, I did not grow up in the church. I grew up surrounded by them. Literally, I grew up with four churches within a block or two from my home in Bellefonte.  My church "frame of reference" was based on vacation Bible school that my neighbors invited me to in elementary school and friends who were deeply involved with their faith. In this way, I have a great deal in common with the many, many unchurched folks around me, knowing what it's like to have more questions than answers and not one who grew up understanding common "church language".
My career right out of high school was broadcasting.  I have worked as a radio personality, music director, and creative copy writer/producer.  When the world wide web came to be, webmaster was added to the list of duties.  I found that work to be quite fun and eventually left full time radio to open my own website and graphic design business in 1999, adding a production studio in 2002.  That work continues to a scaled back degree and I am blessed to continue working as a voice actress for clients all over the world.
I will use every gifting God provides to make disciples wherever and whenever possible. God does amazing things!
I'm excited to see what comes next as part of this blessed charge of Jesus-centered churches!
With hands to the plow,
Theresa M. Heiser, Pastor