A small bite 7 week Bible study called "Take the Flag" will be offered as a study for both the youth of the valley as well as the adults.
Youth (grades 7-12) will have Youth Pizza Study Sundays at 5:30-6:30pm at St. James Coburn UMC, Sept. 16 – Nov. 4 (Will not meet Oct. 14th).  Enjoy pizza and beverages as we study together and be home in plenty of time to get ready for your Monday!  In order to plan, please sign up online now!  Adult volunteers are needed as helpers each week.  The sign up sheet is at church.
The Adults Studies will be held Thursdays from 1-2pm at Sprucetown UMC and 7-8pm at St. James Coburn UMC, Sept. 13 – Sept. 27 (off Oct. 4th for PV Homecoming Parade) Oct. 11 – Nov. 1.
In addition, there is an ongoing Wednesday night 7pm study offered at Trinity Woodward that begins again September 5th.  Feel free to participate in both!  The Trinity Woodward studies are led by Wayne Weaver and feature a video and lively discussion, plus coffee and treats to share.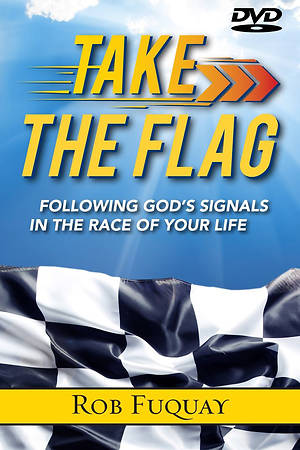 ABOUT THE TAKE THE FLAG STUDY
The spiritual life is often compared to a race.  Pastor Rob Fuquay sees a parallel between the flags used in auto racing and the signals God sends us in our fast-paced lives.
The purpose of Take the Flag is not to turn us into race fans, but to help us become stronger disciples of Jesus Christ by paying attention to the signals God gives us each day.
In this Bible-based, 7-week churchwide series, Fuquay uses the flags from auto racing as a way to discuss different aspects of our life of faith. With wisdom and humor, these seven dynamic lessons will put you on course for your faith journey, helping you navigate the bumps and turns ride out the delays and pit stops, and ultimately take the checkered flag of a victorious life.
What is included in the study?
Each of the 7-video sessions include teaching and commentary by Rob and quick flag stories by auto racing professionals about their experiences with the flags: Ed Carpenter, Jerry Cook, Conor Daly, Austin Dillon, Scott Dixon, Matt Kenseth, Larry McReynolds, Danica Patrick, and Ricky Stenhouse Jr. Each session also includes additional personal sharing by:
•  Michael McDowell
•  Chocolate and Caron Myers
•  James Hinchcliffe
•  Ann Schrader
•  Cliff Champion
•  Nick Terry
•  Sam Hornish Jr.
For  more information about the upcoming study, contact Pastor Theresa.