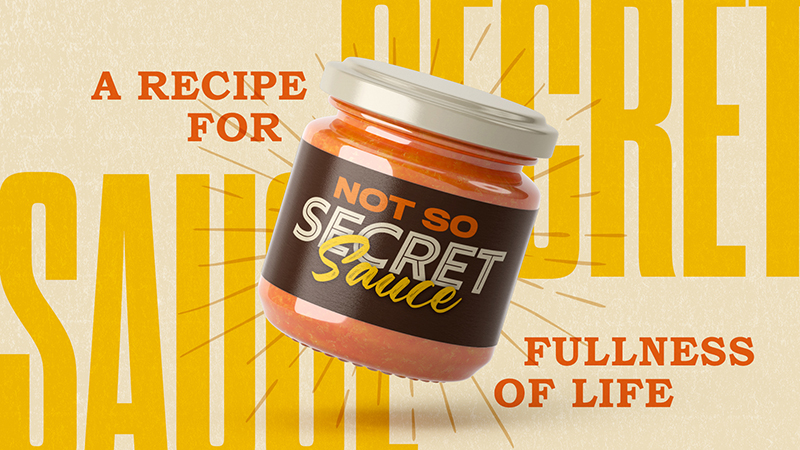 ABOUT THE MESSAGE SERIES
Looking for the recipe for a full and meaningful life? Although chefs often keep their secret recipes locked away for generations, the ingredients that go into living a life with purpose and integrity are actually not a secret at all. We learn from scripture that we begin with faith and add goodness, knowledge, self-control, perseverance, godliness, mutual affection and love. It's not a secret sauce, it is a clear recipe to experience life to its fullest.
Join Pastor Theresa for a closer look at each ingredient!
September 5 – Goodness: Doing good works does not save us. Receiving God's grace through faith is what makes us a Christian. The first ingredient in being a follower of Jesus is displaying goodness in our life. We are God's workmanship that He has designed to make a difference in the world. When we do good works, we fulfill our purpose in life.
September 12 – Knowledge: True knowledge begins with a proper understanding of our position before a holy God. We honor God as we recognize and revere His power. When we start there, we begin to live with the kind of wisdom that changes the trajectory of our lives.
September 19 – Self-Control: Life is full of temptations that can ruin your life. The only way we are able to navigate the pitfalls is to allow the Spirit of God to empower us to have self-control. We experience self-control as we submit ourselves, each and every day to the work of the Spirit. We can say "yes" to the things we should say yes to and "no" to the things we should say no to. It is no secret that a controlled life is a healthy life, but living it out is not easy.
September 26 – Perseverance: The Christian faith is not for the faint of heart. There are many things that can entangle us and cause us to want to quit. With Jesus as our inspiration and example, we can push forward and stay faithful.
October 10 – Godliness: Many people work hard to train their bodies to be healthier. It enhances their daily life. The training we should be focused on is the kind that makes us into people who look more and more like Jesus Christ. This kind of training does not just pay off for the here and now, but also for eternity. [Note: Sprucetown celebrates Homecoming with a guest speaker this week followed by a potluck lunch! All are invited.)
October 17 – Mutual Affection/Love: The engine to a life well lived in love. Jesus' life, death and resurrection were motivated by love for us and out of that sacrifice, we can love one another well. Our relationships are bankrupt without love and it is no secret that agape love is the key to a full life.