Penns Valley Cluster Pulpit Swap Sunday is this week! Scroll down for this week's announcements…
Pastor Theresa Heiser will serve 8:30am Faith UMC in Spring Mills and 10am service at the new Brush Valley UMC in the church in Madisonburg.
Randy Muthersbaugh (appointed as a DS hire serving Faith UMC Spring Mills and Brush Valley UMC) will serve the 10am service at Grace UMC in Centre Hall.
Rev. Deb Dailey (from Grace Centre Hall) will serve 8:30am at Trinity UMC in Woodward and 9:45am at St. James UMC in Coburn.
Rev. Karen Weiss (Deacon in connection with Grace Centre Hall) will serve 11am at Sprucetown UMC
Zoom services will not be available this week. They, along with our normal schedule, will resume October 31st.
We hope you enjoy the message about what we see in Blind Bartimaeus and the question Jesus asks him, which is "What do you want me to do for you?"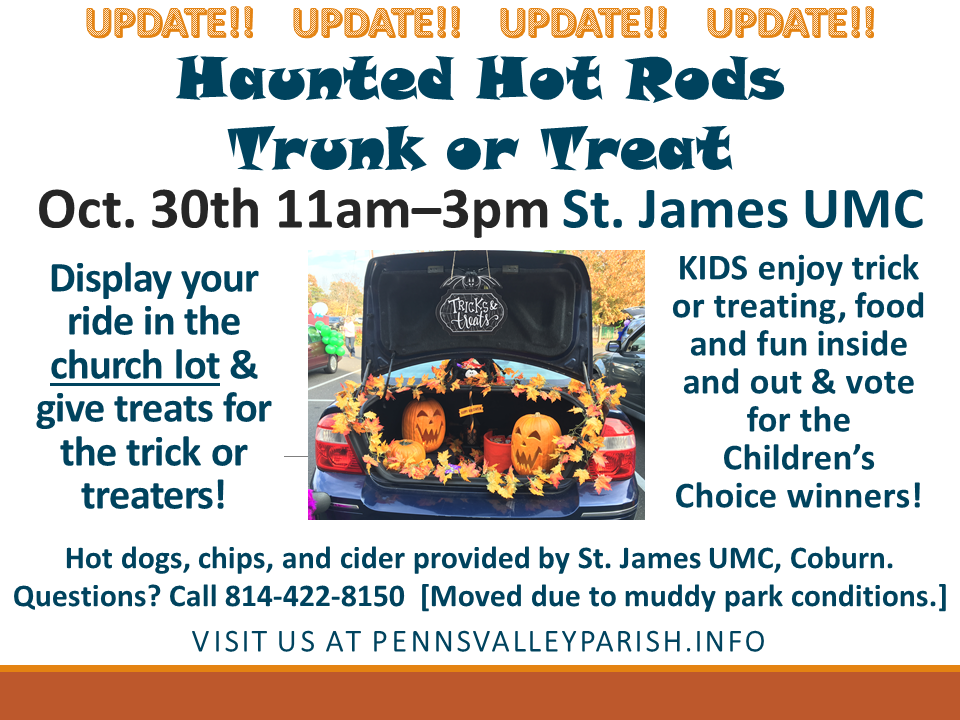 THIS WEEK'S ANNOUNCEMENTS (Subject to change):
– Youth Pizza Study for grades 6-12 meets Sunday, Oct. 24th at 5pm for pizza then study 5:30-6:30pm at St. James UMC, Coburn. Bring your Bible. If you don't have one, we have one for you! See you there!
– Are you ready to bring your "haunted hot rod" to Trunk or Treat next Saturday, October 30th 11am-3pm in Coburn Park behind the Post Office? The top three "Children's Choice Awards" prizes are below; 1st place a supreme snack basket with pretzels, gourmet popcorn and more; 2nd place wins a Jack Links' beef jerky box; 3rd place wins a pumpkin full of yumminess!Decorate your "hot rod", come out before 11am and line up with the other contestants. Bring candy for the trick or treaters because THEY are the judges! You will receive your ticket box when you arrive. When children pick your "ride", they'll put their ticket into your box and the boxes with most votes win! Trick or treaters come out and receive a treat bag (if you don't already have one) and in addition to the trick or treating, everyone gets to enjoy free hot dogs, cider, snack bags of chips and more! I'll have some crafts for the kids, too. Need ideas for your hot rod decor? Check out this link and be inspired! https://www.google.com/search?client=firefox-b-1-d… Pass it on! [tip: Hot rodders, bring lawn chairs for comfy seating
]
– Volunteers willing to serve on committees or as officers are needed for 2022. Information about the committees is available at the church. Church members are encouraged to attend the Charge Conference Nov. 21st at 2:15pm at St. James UMC in Coburn to vote on officers and reports in preparation for 2022.
SAVE THE DATES: Potluck Dinner & Comedy Night, Nov. 7th at Sprucetown Church, 177 Upper Georges Valley Road, Spring Mills! Bring a covered dish to share, ready to start dinner at 5:30 which will be followed by a viewing of "Thou Shalt Laugh" Stand Up Comedy Show. We all could use a good laugh. Hope to see you there.
The Lay Servant Ministries Basic Course to be offered January 21-22, 2022. We encourage anyone in leadership or called to leadership as well as any who is a lay speaker or called to lay speaking to take the course. Details and sign up are available now.
Click this link for directions and map to Coburn Park in Coburn, PA