Seeing a church on fire is very hard for anyone. I am reminded of the day my husband and I were on our way home from a trip celebrating our 25th wedding anniversary to learn that a church in the charge that would be my first appointment as a pastor starting in a couple of weeks, was on fire. Thanks to the hose full of water at the neighbor's house, damage was limited and the church was repaired. Amen! And still, it was heartbreaking, the mere thought that a church these faithful loved and where they spent time with family and made so many memories, was ever on fire at all.
Watching Notre-Dame de Paris a.k.a. Notre-Dame Cathedral burn was heart wrenching. I've always wanted to visit and perhaps I will one day but it won't be the same. I heard that a lot yesterday, "it may be rebuilt, but it'll never be the same."
That set me thinking. While attention is centered on this one historically significant church suffering damage believed at this point to have begun accidentally due to long overdue restoration work…what can I learn? How can I see God in this event? What does it mean for me going forward?
I started researching, looking it up in the encyclopedia, and learned that Pope Alexander III laid the foundation stone for Notre-Dame in 1189. For frame of reference, St. Francis of Assisi was born in 1181! Construction continued for over 160 years.
Reading about this historic church and all it's been through in 830 years was interesting. In terms of years, these middle ages churches are treasures and amaze us that they still stand, and yet, old as they are, they were at one time the "new" church that replaced the old one. This is the case with Notre-Dame. Did you know that Notre-Dame Cathedral was built on the ruins of two earlier basilicas? I wonder what the faithful, whose lives were tethered to those two smaller churches, thought about this new church? The people present for the groundbreaking and celebration would never see it completed. Nor would their children, or their grandchildren. Not likely.
Think of all the generations that came and went while a building was constructed? The church is always changing, they likely thought. That'll preach! The "church" Jesus began IS always changing. That's the case since Jesus was born 2019 years or so ago. And by "the church", I mean the people of the church. While watching the fire footage on tv these words from the hymn We Are the Church came into my head.
"Sometimes the church is marching, sometimes it's bravely burning, sometimes it's riding, sometimes hiding, always it's learning."
What can we learn?
The "church", it seems to me, is in need of comprehensive restoration. WE are in need of full restoration. Holy Week is a time of the Christian year when I set aside a larger block of time to focus on the scripture that aligns with the day. Between this practice, and this week's focus in the Bible study we are doing at Sprucetown UMC, "Restored: Finding Redemption in Our Mess" by Tom Berlin, I am learning a lot!
In chapter six of Tom Berlin's book where sanctification is addressed, Tom writes about our longing for God's love to live in US. We are the church. In other words, we want to take our heart full of God's love home from the church building on Sunday morning and keep it full the other six days of the week, because "our body is a temple", "we are the church". It's what we aspire to. (See page 121 of the book.)
But, Tom writes, "Here is the truth about our lives: we cannot honor sin and the presence of God in the same moment." But we sure try. Don't we? We can be heading home after inspiring praise and worship and get cut off in traffic and cut loose with the cursing. Or a cranky member of the family pushes your buttons at breakfast, and you snap back at them without thinking, and now you're both in a lousy mood the rest of the day.
Lent is a time when we address that conflict we have attempting to honor sin on one hand and remain in the presence of God on the other. Read what it says on the United Methodist Church website regarding Lent and Easter…
"During Lent we are reflecting on our own lives and repent, literally "turn around" and realign our lives and focus toward God. It's a time to give up things as well as take on new life-giving practices, to be more faithful disciples of Jesus Christ" [Source: http://www.umc.org/topics/topic-lent-and-easter]
Those things we tend to "give up" are usually some food item that isn't good for us, but we can't resist. However, those things we should give up are the stumbling blocks that lead to sin.
How can I see God in this event?
I don't see anything Divine in the fire's origin. Things happen. Free will and God's plan, to me, mean we are not puppets on strings and we cause things to happen that we then must respond to as a child of God. That said, I could see God soon after.
All those people who gathered and watched, bewildered, with their hearts breaking, and tears in their eyes were experiencing an intense focus and appreciation of this amazing place and what it stood for all these years. How people from all over the world would come here to see this remarkable place with its artwork and icons and statues and leave forever changed with a full heart, amazed at what they who are created in His image are capable of building. Additionally, how those things we store up on earth over the course of a lifetime, amazing as they may be, can disappear in moments.
Perhaps in the back of the minds of some was the memory weeks ago when they gathered to begin the season of Lent. How, on their foreheads, they received the mark hearing the words, "Remember that you are ashes. And to ashes you shall return."
The world's faithful and empathetic mourns the permanent change to their skyline and supports the hope of rebuilding and restoration with Paris.
What spoke to me on Holy Monday, the day we consider Jesus triumphant entry into Jerusalem, was seeing God in the drawing together of people all over the world, over something designed to draw us closer to him.
What does it mean for me going forward?

"The church is not a building. The church is not a steeple. The church is not a resting place. The church is a people."
Sunday morning, people will gather together to worship God, sing hymns, and hear the Good news that Jesus conquered death. That the death sentence handed down upon him was not the final word and because of this, neither is it our final word. That we are here for a purpose. We are not an accident. We are not without hope. We are not beyond help. We can have a better life, but we cannot do it alone. We need help.
We don't know when the fires in our life will be set. We may not be there when they start. We definitely can't put them out without help from God the Father, the Son and the Holy Spirit.
All of us are at a certain point of restoration, working through the many areas of our lives that require attention. Maybe you're just starting…but read these words of assurance from the Apostle Paul…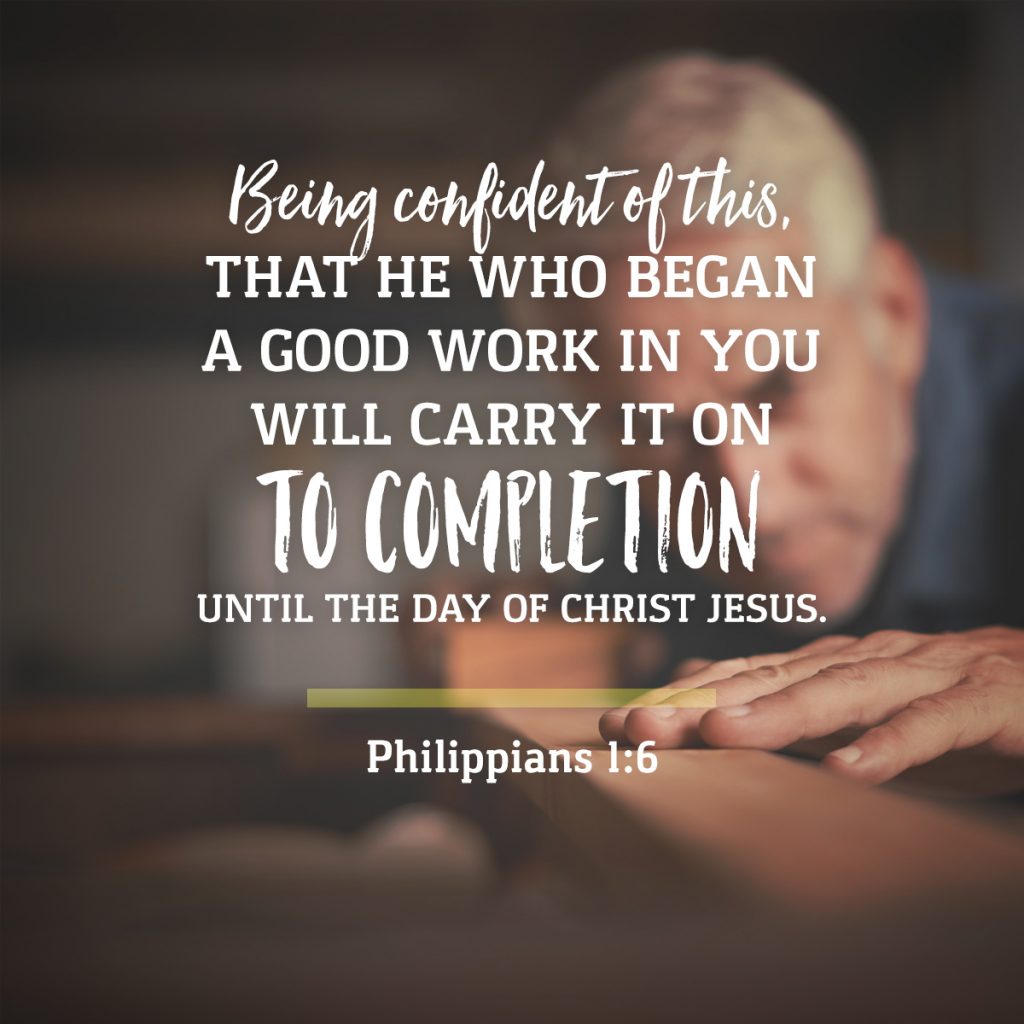 We who are "rebuilt" by our Creator will never be the same, and that's a wonderful thing!
Please hold the people connected with Notre-Dame Cathedral, the community of Paris, and all who are touched by the tragic fire in your prayers. May God use this time to speak to the hearts of the unsaved and a season of amazing repentance begin. Amen.
See you at church,
Pastor Theresa