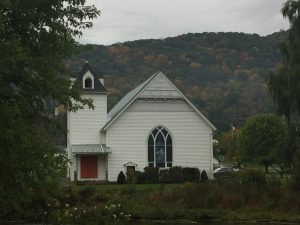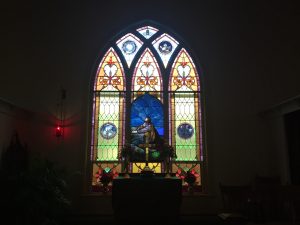 The church is closed until further notice due to COVID-19.
107 Two Steeples Lane, Spring Mills, PA  16875
Mailing address:  PO Box 211, Centre Hall, PA  16828
Message by Phone:  814-422-6238
Online worship:  Sundays 8:30am Facebook Live – Scripture & Message only and Family Service available online
Offerings may be mailed to Finance Chair, Kathy Eisenhuth, PO Box 15, Spring Mills, PA 16875-0015. 
Holy Communion the 1st Sunday of the Month officiated by Rev. F. Jeffrey Mugridge
Theresa M. Heiser, Pastor
ANNOUNCEMENTS
The leadership of Faith UMC have decided to suspend In-Person worship and all gatherings at the church till further notice. Understand that this decision was not taken lightly and was made at the request of Bishop Park and the Cabinet of the Susquehanna Conference.
WHEN WE RESUME
Faith Church welcomes you to worship Sunday mornings at 8:30am.  Our sanctuary offers better than minimal physical distancing, hand sanitizer and masks.  We care about your physical and spiritual health!
Spring Mills Faith United Methodist Church officers for 2021
Lay Leader/Ad Council Chair          Kathy Eisenhuth
Treasurer                                            Jean Eisenhuth
Trustees Chair                                    Russell Beaton
Finance Chair/Membership             Kathy Eisenhuth
Church Secretary                               Jeannette Breon   
Pianist                                                  Beth Brown / Janet Zerby
Safe Sanctuaries Coordinator/Adv Kathy Eisenhuth
Trustees          Off in 2023                 Jean Eisenhuth
                        Off in 2021                  Kathy Eisenhuth
                        Off in 2022                  Russell Beaton
SPRC Rep                                             Kathy Eisenhuth
SPRC Alt.                                              Russell Beaton
Audit Committee                                Russell Beaton, Kathy Eisenhuth
Penns Valley Charge SPRC meetings
1st Quarter:  Jan 13 2021 7pm at Sprucetown UMC


Penns Valley United Methodist Charge Officers for 2021
Charge SPRC Chair                           vacant
Charge Treasurer                              Kathy Highbaugh  (St. James Coburn)
Charge Secretary                               Tawnya Childs  (Sprucetown)
Lay Member to Annual Conf.          Beth Brown (Sprucetown)
Lay Member to Annual Conf.          Randy Muthersbaugh (Faith)
Lay Member Alternate #1                Kathy Highbaugh  (St. James)
Lay Member Alternate #2                Kelly Trozzo  (Sprucetown)