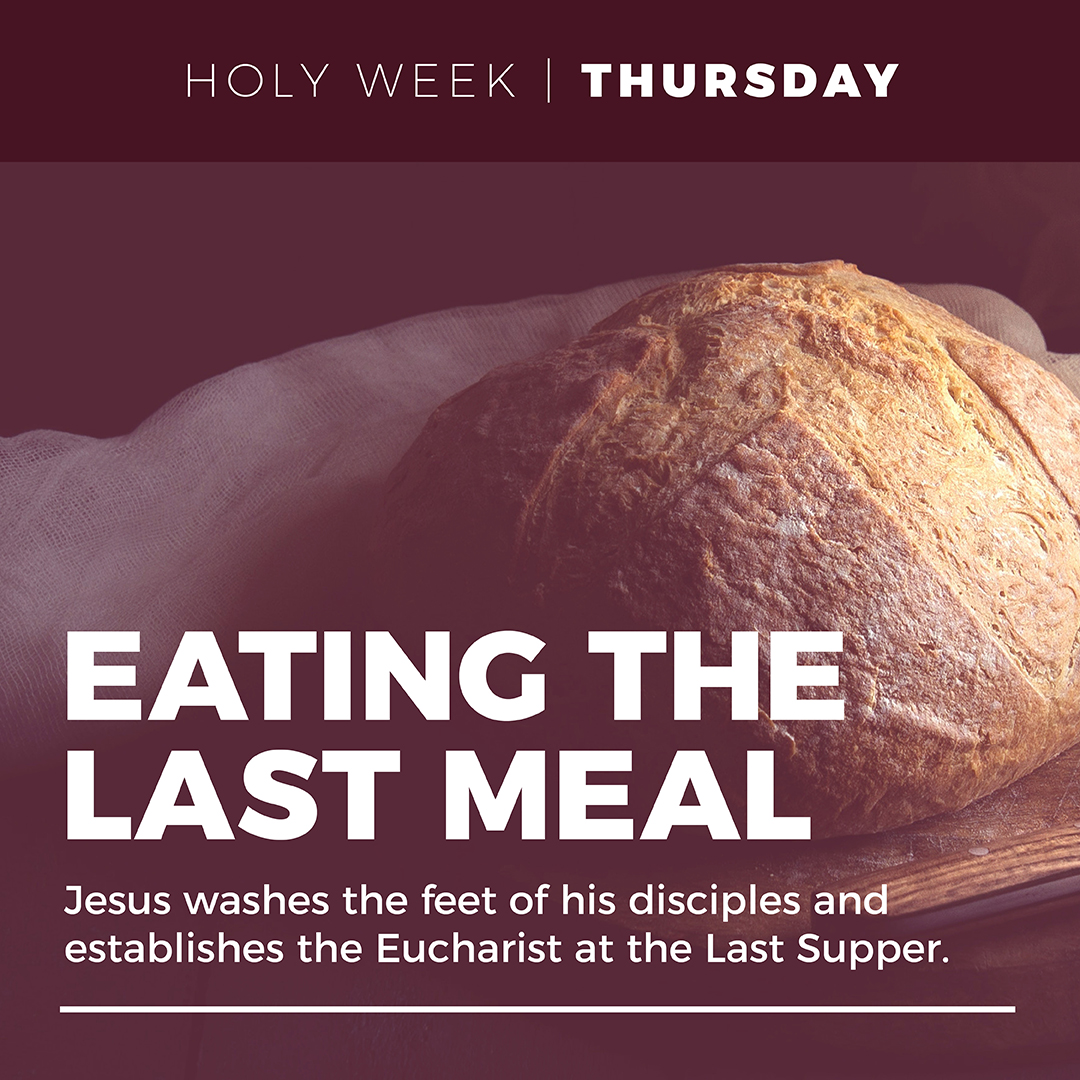 Grace and peace to you from our Lord and Savior, Jesus Christ.
Words cannot express how hard it is not seeing you Sunday mornings. However, I believe the Holy Spirit is alive and well and moving and that we will come through this time stronger and more alive than before!
As you know, we had planned to host the Holy Thursday/Maundy Thursday service for the East Penns Valley Ministerium. Without the means to live stream, I decided to share the message in long form so you can digest it at your own pace, in your own quiet time today.
May God richly bless you this Holy day,
Pastor Theresa
Meditation: He gives us an example and a commandment ever-new: To love one another as he has loved us.  This is how everyone will know we are his disciples, when we love each other. Amen.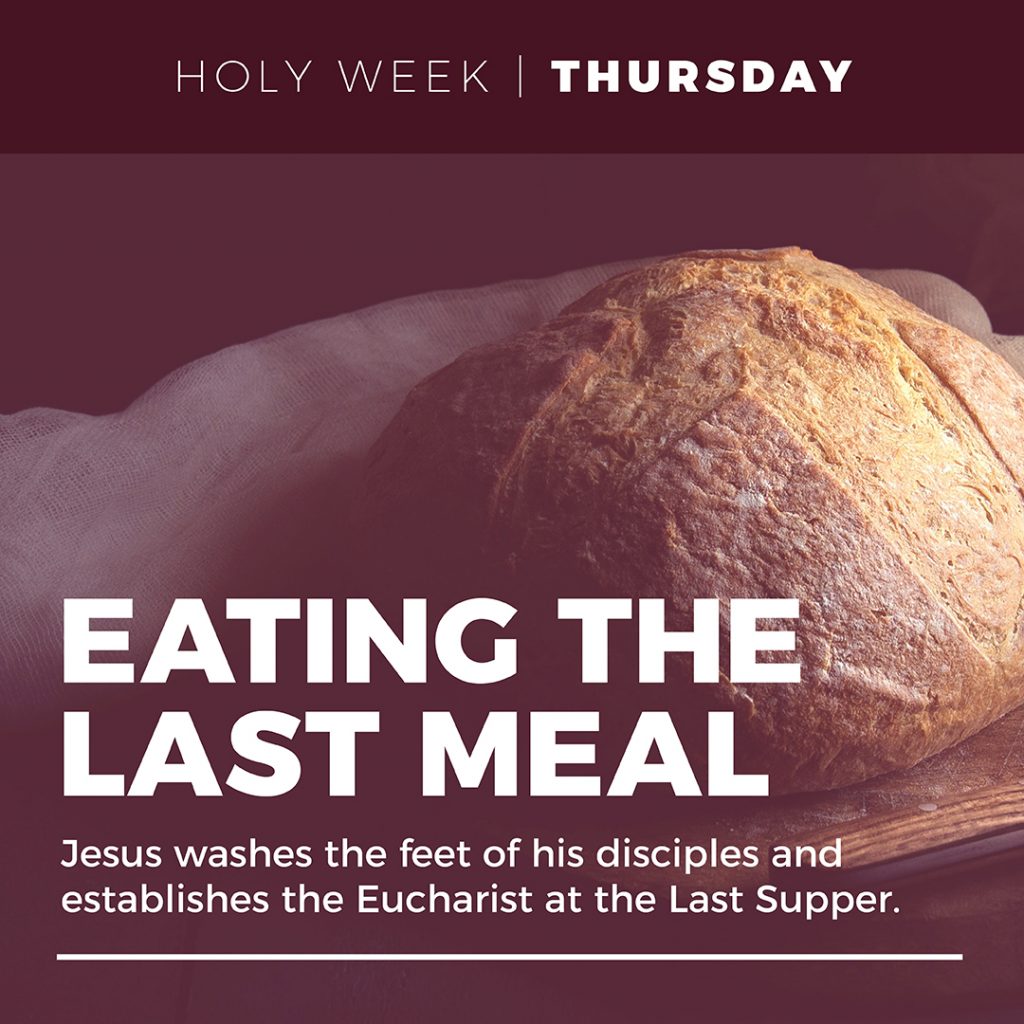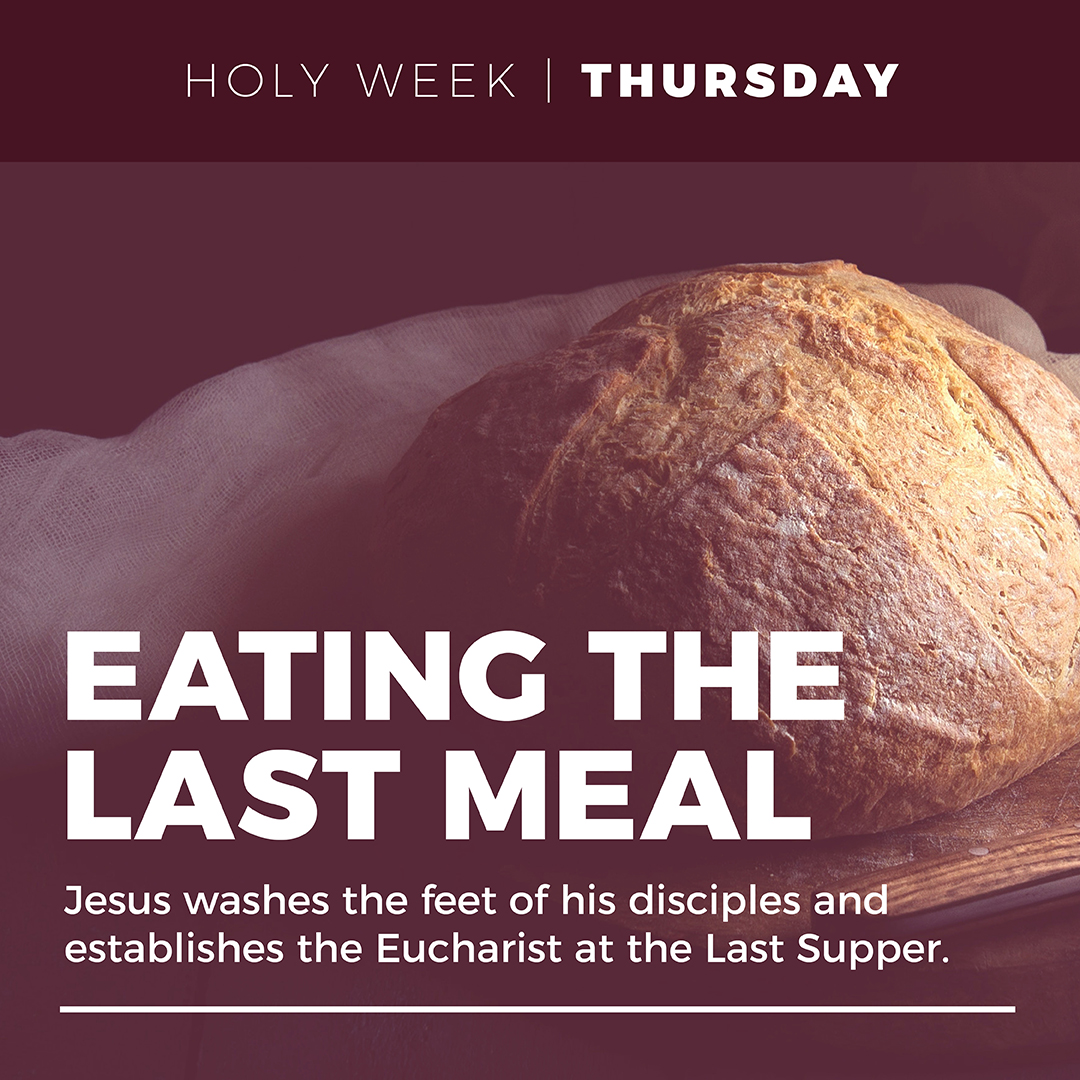 Key Scriptures for the message:
Isaiah 50:4-9 New Revised Standard Version (NRSV)
The Servant's Humiliation and Vindication
4 The Lord God has given me
the tongue of a teacher,[a]
that I may know how to sustain
the weary with a word.
Morning by morning he wakens—
wakens my ear
to listen as those who are taught.
5 The Lord God has opened my ear,
and I was not rebellious,
I did not turn backward.
6 I gave my back to those who struck me,
and my cheeks to those who pulled out the beard;
I did not hide my face
from insult and spitting.
7 The Lord God helps me;
therefore I have not been disgraced;
therefore I have set my face like flint,
and I know that I shall not be put to shame;
8 he who vindicates me is near.
Who will contend with me?
Let us stand up together.
Who are my adversaries?
Let them confront me.
9 It is the Lord God who helps me;
who will declare me guilty?
All of them will wear out like a garment;
the moth will eat them up.
Footnotes:
Isaiah 50:4 Cn: Heb of those who are taught
John 13:1-2 New Revised Standard Version (NRSV)
Jesus Washes the Disciples' Feet
13 Now before the festival of the Passover, Jesus knew that his hour had come to depart from this world and go to the Father. Having loved his own who were in the world, he loved them to the end. 2 The devil had already put it into the heart of Judas son of Simon Iscariot to betray him. And during supper
20 Very truly, I tell you, whoever receives one whom I send receives me; and whoever receives me receives him who sent me."
Jesus Foretells His Betrayal
21 After saying this Jesus was troubled in spirit, and declared, "Very truly, I tell you, one of you will betray me." 22 The disciples looked at one another, uncertain of whom he was speaking. 23 One of his disciples—the one whom Jesus loved—was reclining next to him; 24 Simon Peter therefore motioned to him to ask Jesus of whom he was speaking. 25 So while reclining next to Jesus, he asked him, "Lord, who is it?" 26 Jesus answered, "It is the one to whom I give this piece of bread when I have dipped it in the dish."[a] So when he had dipped the piece of bread, he gave it to Judas son of Simon Iscariot.[b] 27 After he received the piece of bread,[c] Satan entered into him. Jesus said to him, "Do quickly what you are going to do." 28 Now no one at the table knew why he said this to him. 29 Some thought that, because Judas had the common purse, Jesus was telling him, "Buy what we need for the festival"; or, that he should give something to the poor. 30 So, after receiving the piece of bread, he immediately went out. And it was night.
The New Commandment
31 When he had gone out, Jesus said, "Now the Son of Man has been glorified, and God has been glorified in him. 32 If God has been glorified in him,[d] God will also glorify him in himself and will glorify him at once.
Footnotes:
This is the Word of God for the people of God. Thanks be to God.
A Day of Remembering
When my kids, Evan and Marisa, were born, Brian and I became their first teachers. We taught them to walk, use a spoon, button buttons and zip zippers and tie their shoelaces and so on. We would know how excellent our teaching skills were when we would start to help them and they'd say cut their eyes at us saying, "I can do it myself!"
They got older, as kids tend to do, and were taking advanced courses in high school. I have to admit that I felt less like a teacher and more like a student when they'd come home with that homework. But I could be an encourager, teaching the idea of not giving up or asking for help from someone who knows how to get the answers. There is wisdom in that lesson, too.
The passage from Isaiah talks about a teacher not as one who loads us up with a bunch of homework to carry but someone who helps lighten our load. A teacher is one who "sustains the weary with a word." We've had many such teachers. Not just the ones in school but those scout leaders, coaches, band and choir directors and pastors may have contributed to your lifetime education. Some by teaching, some by example.
The disciples and followers of Jesus called Jesus "Teacher." As an itinerant rabbi, that's what everybody called him. Jesus was an exceptional teacher, and what he taught was viewed by some as a threat. Jesus would be executed for his teaching, for the potential threat his teaching posed for some in positions of authority. The Romans didn't care whether or Jesus claimed to be the Son of God or not, because they weren't interested in Jewish religion. Their attention was drawn to the threat of what might happen if enough people believed Jesus was the Son of God and as a result of that belief were inspired to revolt.
Jesus proved that he was a very good teacher to the Jewish leaders. Good teaching is indelible. You can never will yourself not to know what you know. You can forget things, but you can't "un-know" things. Which is what puzzles me most about why some leaders in the temple thought having the Romans kill Jesus would somehow erase his teaching. Good teaching becomes a part of the learner. They grow in it, and grow because of it, they build on it. It is foundational.
In the Gospel reading from John, Jesus' teaching in the flesh is coming to a close. He knows it, and had mentioned it several times in the days leading up to the night in the upper room. Only this time, the disciples notice Jesus is troubled in spirit. When Jesus says "Very truly I tell you one of you will betray me", they are stunned. Some may be relieved thinking "so THAT'S what's bothering Jesus. Here I was worried he would die!" And instantly the human response, "who's responsible? Which one will betray you?" We need to know who to be angry with, right? We need to put down the threat.
So subtle is the interaction between Jesus and Judas that the disciples don't grasp what happened. Judas, taken over by Satan, leaves. But what if they had figured out precisely what Jesus meant? Certainly there would be confusion at Jesus sending Judas off to not only do the evil thing he intended, but to hurry. The disciples might have thought, "Surely Judas isn't really going off to sell out Jesus. Wouldn't Jesus tell one of them to stop him, or stop him himself? I know if I were about to be betrayed, I wouldn't just sit here and eat! I sure wouldn't let the guy go without a fight. No. Judas must be sent off by Jesus to do something necessary." Indeed.
We get to look at this historical event as Jesus did, as those who know how it ends before it begins. We know what's coming to Jesus through Judas' betrayal. And it's hard for us to wrap our heads around Jesus' behavior, too. For those who've experienced betrayal, who were shocked, hurt, and disappointed that a friend, family member or coworker would do something like that to us and sit right next to us at dinner? It's tough to reconcile up here (head) even harder to understand here (heart).
It's only after the betrayal that we can look back and see some events with new eyes, "remembering the time that they did this or that" and now it all makes sense because we have new context. We see all the dots now and can connect them in a way we couldn't at that time. The disciples aren't doing the looking back, not yet. But they will. And when they do, they will remember that Jesus taught all of them the same lessons, knowing what Judas would do. And they might have wondered why Jesus spent any precious time teaching Judas anything at all. But there is something to be learned in everything Jesus did. Not to mention prophecy fulfilled by Judas with the 30 pieces of silver. It had to be.
The purpose of teaching is to remember the lesson and the answer when the tests come. How well we recall what we learn determines whether we pass or fail each test.
We are being tested right now, folks. Can you feel it?
Some say that Judas failed the test, and yet Jesus told him to go do what he is going to do quickly. Wasn't he obeying Jesus when he left? There's a whole lot of debate about whether or not Judas worked with Jesus or against him, but there's no question that his actions led directly to Jesus' crucifixion and that being "lifted up" was what Jesus taught would and must happen. Which of the other 11 were more qualified by nature to betray Jesus?
And then there is the question of forgiveness. Judas repented and threw down the 30 pieces of silver in the temple. Money that, as prophets wrote, would be used for the potter's field. The 12 disciples' treasurers last act before taking his life, his repentance fulfilled prophecy. Judas did repent.
Judas was not the first thief to repent as we know a similar event happens at the cross with the penitent thief. He mocked Jesus right along with the others until the point he realizes Jesus' innocence and his own guilt and the injustice of it all. He repents for a lifetime of sin and Jesus forgives him.
Our God is a forgiving God. He WANTS us to ASK for His forgiveness. He wants us to forgive as we have been forgiven.
God size forgiveness is shown in Genesis 50:20 (NRSV) when Joseph forgives his brothers who sold him into slavery "Even though you intended to do harm to me, God intended it for good, in order to preserve a numerous people, as he is doing today." And Paul writes to the church in Rome in Romans 8:27-28 "And God, who searches the heart, knows what is the mind of the Spirit because the Spirit intercedes for the saints according to the will of God. We know that God makes all things work together for good for those who love God, who are called according to his purpose."
Lent is a long 40 days. It's been made seemingly longer by the pandemic and social distancing and stay at home order. Yet, the Word teaches a lot in those 40 days. A 40 day education on which we are tested 365 days a year. How well do you remember what you have learned when the test comes?
I know that right now it's hard to remember what a normal Sunday feels like. I still wake up early and want so much to jump into my car and head to the first service. And one day, we will have the option again to do just that. Will you then remember what it was like not to have that option to head to church for foundational teaching so that when the test comes, you are ready? How have your priorities changed in these last few weeks? How will they need to change in coming years? AND – Are there situations and people in your life that you know you need to approach differently?
Will we remember what we've learned when the tests come?
Let us pray: God of grace and God of glory, we are more a people of forgetfulness, than a people of remembrance. You have freed us from the bondage of death, yet we continue to live enslaved to fear. You have called us to be servants, yet we seek our own gain and put ourselves first. Forgive us. Guide us in the ways of life when we fail to follow the example of your Son. Teach us to love, as you have loved us, that everyone may know we are your disciples. In the name of the Teacher we pray, and all God's people said, Amen.
ADDITIONAL ONLINE RESOURCES:
Jesus Calling Holy Week Devotional
Resurrection Eggs – print and cut the papers into strips to roll like scrolls and place into plastic Easter eggs and help your kids understand the Resurrection story