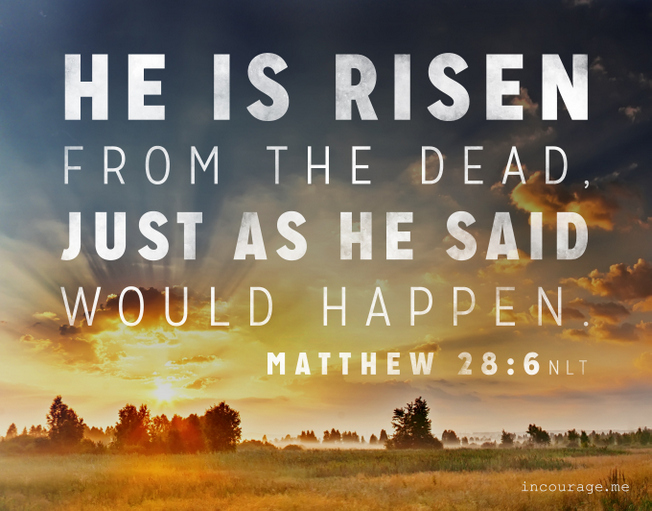 ABOUT THE RISEN SERIES
It's a great story, the Resurrection of Jesus Christ. But is it true?
We all know at least one skeptic, maybe it's you. The movie Risen tells a story, it is not a biographical story, but offers viewers the truth of the Resurrection from the point of view of a non-believer in search of the truth. (The movie trailer is not suitable for all audiences.)
ANNOUNCEMENTS
The Penns Valley Charge churches support the efforts mandated by our Bishop Jeremiah J. Park to protect each other and our community by worshiping at home at least until Palm Sunday, and possibly beyond.
Please check the website weekly for updates, information and faith building resources you can use and are welcome to share with others.
Take care of yourself, check in with your friends and family and follow the CDC guidelines during this time and know that I am praying for you, your family and God's world. May His healing, forgiving, and restoring love comfort you.
~ Pastor Theresa
RESOURCES FOR TODAY:
CHILDREN'S MESSAGE Click to open the printable Coloring pages, puzzles, story and more!
POWERPOINT SLIDES SHOWN ON THE SCREEN
OPENING THOUGHTS…
We are living in an unprecedented time. There is much we do not know. We are informed every day and the news can become overwhelming. Our normal, hectic, routine lives have been disrupted and we must choose our response daily to the upheaval of it all.
Bishop Grant J. Hagiya of the California-Pacific Conference issued this statement in February:
We have all been consumed by the rapid spread of the Coronavirus and its growing implications for our daily lives. We cannot downplay the importance of being prepared and not reacting with panic or fear.
As a spiritual body, we need to remember that fear turns people toward sin. Anytime we scapegoat a certain people (e.g., Asians where the virus seemed to originate), we are guilty of practicing such sin. Our response to victims should not be ostracizing and shunning them, but it should be to have compassion and care for them.
Building on the bishop's timely message, fear can turn us toward sin. But we do not live as those with no hope. We are created in God's image with the ability to bring order to chaos and engaging that ability requires Spirit leading. To be a source of comfort, direction and blessing requires a strong connection the our Ultimate Source.
We may look to this time as an opportunity to be the world or act as a disciple. Discipline requires submission to God's will, not our own…to step back and consider the bigger picture and God's Plan for all people. We are here for a time such as this. And it may a bit like Friday…but as the introduction to the message promises…SUNDAY IS A COMIN'!
INTRODUCTORY poem: It's Friday, But Sunday's Comin' by S.M. Lockridge
THE MESSAGE: The Greatest Comeback in History!
TODAY'S ANTHEM Shoulders by for King & Country
Next Week: "The Jesus Who Wants You FULLY Alive!"
Thank you for joining (virtually) with us. Share this resource with anyone you know who can use a lift of Spirit!
Click here to learn more about the churches of the Penns Valley Charge of the United Methodist Church.