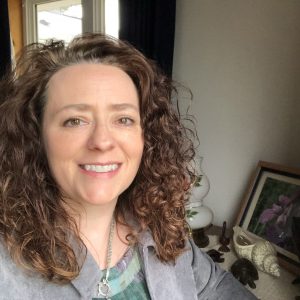 Meet the Pastor: Theresa M. Heiser
As 1 Peter 4:10 (NRSV) says "Like good stewards of the manifold grace of God, serve one another with whatever gift each of you has received."  We all have amazing gifts!  One of my goals in serving the churches of the Penns Valley Charge is to prayerfully assist each person to discover the gifts God has given them and to encourage sharing those gifts for God's glory.
My husband, Brian, and I were married in Centre Hall in 1991. We are very proud parents of Penns Valley alums; Evan and Marisa.
I didn't grow up in the church, yet I have always understood that Holy Spirit was with me. I grew up with four churches within a block or two from my childhood home in Bellefonte and heard the bells every day.  My early church experience was vacation Bible school and friends who were deeply committed to their faith. Like the unchurched folks around me, I had a lot more questions than answers.
Ministry became my vocation in 2016.  Before that I worked as a radio personality, music director, and creative copy writer/producer.  When the world wide web launched, webmaster was added to the list of duties for the radio station.  I found that work to be quite fun and left radio in 1999 to open my own website design/graphic design business, adding a voice acting and audio production studio in 2002.  The business work was scaled back to 1/4 time to allow for the 3/4 time ministry appointment.
Each of us has a unique set of skills and interests to bring to ministry and I will use every gifting God provides to make disciples wherever and whenever possible. I'm excited to see what comes next as part of this blessed charge of Jesus-centered churches!
---
In addition to serving the charge, Pastor Theresa serves the Susquehanna Annual Conference Committee on Nominations as liaison to Committee on Finance and Administration and Growing Spiritual Transformational Leaders.