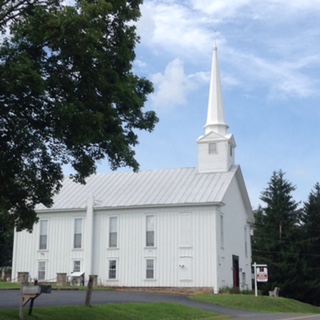 The Sprucetown Congregation was organized in 1830 and held meetings on the Sankey farm. The church building was erected in 1842 on a tract of land deeded from James Potter and his wife, Susan, and John Potter and his wife, Amelia, to James Sankey, John Turner, Sr., and Daniel Livingston, trustees. The building committee consisted of George Michael, Daniel Livingston, John Towner and James Sankey. The Rev. Houghawont presided at the dedication. The old church was torn down in 1872 and the present structure was built at the cost of $4,200.
There were no major changes within the church until 1943 when kerosene lights were replaced with electricity. In 1960, the three coal and wood burning stoves were removed and a furnace installed. The old steeple was torn down in 1964 because of the danger of it falling and was replaced with a belfry.
The year of 1968 brought another change when it was discovered that the foundation of the church was in poor condition. The logs in the floor were replaced and the downstairs took on the look of paneling, tile floor and new lighting fixtures.
Other recent renovations include: 1979 – water was installed into the church; 1980 – remodeled kitchen and concreted its floor; 1982 – concreted floor in the Sunday School room; 1983 – paneled ceiling of the Sanctuary and repainted the bell tower; 1983 – sound system was donated by Walter Bailey, he also made two walnut crosses and placed them in the Sanctuary; 1985 – bathroom facilities were installed; 1988 – remodeled the Sanctuary with new ceiling tile, an arch behind the altar; and also painted the outside of the church.
Memorial gifts are as follows: Pulpit, lectern and altar rails built and donated by Henry Faust. Flags, altar set and picture of Christ donated by Mr. and Mrs. George H. McCormick. Collection plates, baptismal font bowl and the large Bible given in memory of Mr. and Mrs. Frank Palmer. Kneeling pads were purchased by the church and dedicated to deceased members of the church. Communion cloth was made and donated by Jane Frazier. Curtains for the sanctuary made by Gladys Rowe and her daughter Sandy. A clock was donated by Cherry Beard in memory of her mother, Mrs. Henry and grandmother, Mrs. Shirk. In 1971 new hymnals in memory of Alberta Bailey. 1975, new organ in memory of Mr. and Mrs. John Well. 1975, an organ light in memory of Mr. and Mrs. Brown Hackett. 1976, a pair of candelabras in memory of Domer Smeltzer. 1984, Sanctuary light in memory of Rev. John Greenland by members. 1987, new Collection plates and altar set in memory of Anna Jane and Earl Frazier. 1988, Ceiling fans placed in memory of Walter Bailey. 1989, Flower stands in memory of Walter and Alberta Bailey. Rev. Jeff Mugridge dedicated the new church steeple in the 2003.

In 2016, new United Methodist Hymnals were dedicated in honor or memory of individual sponsors. The most recent updates include a locally crafted stained-glass transom window above the entrance and a backlit memorial stained-glass shadowbox in the sanctuary dedicated October 6, 2019. A security camera system was installed in 2021 and internet connectivity added in 2021.