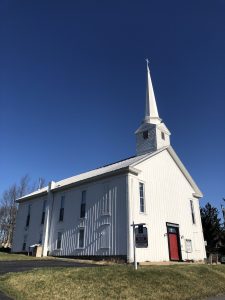 177 Upper Georges Valley Road, Spring Mills, PA  16875
Communion Service 1st Sundays with individual bread & cup chalices
Listen to the latest message by phone 24/7 at 814-422-6238
Please join us for Worship at 11am
Watch our services live via Zoom! Click the link shortly before or at worship time and PLEASE mute your microphone.
11am ET – Sprucetown UMC, Potters Mills/Spring Mills
Click here to sign up for church notifications or reminders by text or phone message.
Theresa M. Heiser, Pastor
Phone:  814-883-9510
Pastor's Mailing address:  PO Box 211, Centre Hall, PA  16828
Offerings may be mailed to Tawnya Childs, offering coordinator, at 133 B. Dobson Drive, Centre Hall, PA 16828.
Events:
Monthly potluck lunch – Bring a covered dish to share the 2nd Sunday of the month (September – April) and join us for lunch after worship!  All are welcome!
Meetings:
Ad Board meets the 1st Tuesday of the month at 7pm – Except Jan – Feb – Mar (when we meet following the monthly potluck luncheon the second Sunday)
Penns Valley Charge SPRC meetings
1st Quarter:  Jan 18 2023 7pm at St. James UMC, Coburn
2nd Quarter: May 10, 2023 7pm at Sprucetown UMC, Spring Mills
3rd Quarter: September 20, 2023 at St. James UMC, Coburn
4th Quarter:  October 18, 2023 at Trinity UMC, Woodward
Penns Valley United Methodist Charge Officers for 2023
Charge SPRC Chair                           Paula Smith (St. James Coburn)
Charge Treasurer                              Kathy Highbaugh  (St. James Coburn)
Charge Secretary                              Tawnya Childs  (Sprucetown)
Lay Member to Annual Conf.          Beth Brown (Sprucetown)
Lay Member to Annual Conf.          Randy Muthersbaugh (Faith)
Lay Member Alternate #1                Kathy Highbaugh  (St. James)
Lay Member Alternate #2                none
Sprucetown United Methodist Church Officers for 2023 – Click for Mission InSite Report
Ad Council Chair                               Teresa Leiby
Ad Council Co-Chair                         Claude Witmer
Treasurer                                           Wanda Hockenberry