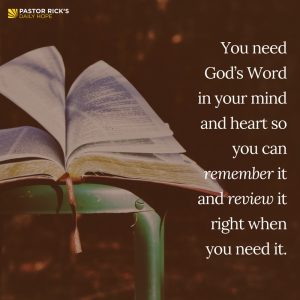 "Do this in remembrance of me."

Jesus
Remembering is very important, according to Scripture. According to "Word Counts" the word the original language translates to our word "remember" appears in the NIV Old Testament 130 times and 36 times in the New Testament. What are some of the passages you remember that feature "remember"? Here are a few I remember…
Then take care lest you forget the Lord, who brought you out of the land of Egypt, out of the house of slavery. – Deuteronomy 6:12
And you shall remember the whole way that the Lord your God has led you these forty years in the wilderness, that he might humble you, testing you to know what was in your heart, whether you would keep his commandments or not. – Deuteronomy 8:2
Remember the former things of old; for I am God, and there is no other; I am God, and there is none like me, – Isaiah 46:9
But the Helper, the Holy Spirit, whom the Father will send in my name, he will teach you all things and bring to your remembrance all that I have said to you. – John 14:26
And when he had given thanks, he broke it, and said, "This is my body which is for you. Do this in remembrance of me." – 1 Corinthians 11:24
Starting this evening, March 27th, Jews all over the world begin remembering the exodus from Egypt with the Passover. Tomorrow, Christians all over the world begin remembering Jesus final Holy Week of human life starting with his entrance, Palm Sunday.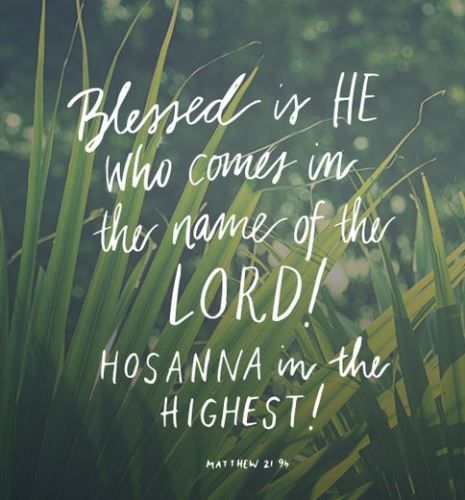 The Passover and Holy Week do not always take place at the same time because the Hebrew and Gregorian calendars do not line up, but this year is different.
This year is different, indeed! We see a great deal of political and religious establishment unrest. What I would describe as "testing of allegiance to political systems and religious structures being considered more important than God" has always existed. (See the first four commandments.) But this testing has ramped up in the last several of decades. Beyond the faith component, social media proves the new societal norm is that you are either on one team or you're on the other. No in between. No grace. No live and let live. Either agree, affirm and advocate for a specific political and religious centered viewpoint or you are instantly designated "the enemy" who must be crushed personally, conquered totally and stripped of your humanity so that any seeking or wishing to retain power, may.
Does this condition sound familiar? It reminds me of the Israelites oppressed by Pharaoh who feared their numbers would surely end his rule. It reminds me of Roman oppression in Jesus' day.
It is important to remember.
Passover is a retelling of a story to new generations. The seder meal's prescribed order and the text recited during the meal, the Haggadah, explain many key elements and symbols that are part of the meal. One specific section of the seder (called the four questions) is when the youngest person at the table asks about the different Passover symbols and the elders explain.
How would you explain the symbols of Easter to the youngest person at your Easter dinner table this Sunday? We have a lot of symbols we use each year, but do we know why or what they represent?
Easter lilies grow in the spring, a time of rebirth and renewal, and because they look like trumpets, they are a symbol for living forever with God. [1 Corinthians 15:52 "in a moment, in the twinkling of an eye, at the last trumpet. For the trumpet will sound, and the dead will be raised imperishable, and we will be changed."]
Butterflies symbolize life cycle and eternal life. While in the cocoon, it changes and emerges new and beautiful and able to fly!
[1 Corinthians 15:5-54 "For this perishable body must put on imperishability, and this mortal body must put on immortality. 54 When this perishable body puts on imperishability, and this mortal body puts on immortality, then the saying that is written will be fulfilled:"Death has been swallowed up in victory."]
Eggs are the most commonly thought of symbols of Easter, but why? The egg represents the new life that returns to nature during the spring. Christians have used eggs as a reminder of the tomb from which Jesus arose. Early Christians used red colored eggs to symbolize the Resurrection.
The lamb is a symbol of Jesus, referred to as the "Lamb of God" in Revelation 5:6-14. John the Baptist described Jesus as the "Lamb of God who takes away the sin of the world" in John 1:29.
My prayer for you this Holy Week is that you will remember each day what happened and why. This Holy Week events in Scripture printable will serve as your daily reminder of what takes place and where to read about it in your Bible or Bible App.
Remembering the Resurrection of Christ is important because it renews our hope in the truth of salvation, that reconciliation with God and new life are possible! Without the cross and the empty tomb, there is no Christian faith. Remember, if Jesus conquered death, then everything He said about forgiveness and eternity is absolutely true! Of all the years I have celebrated this glorious and powerful day, this year is truly an Easter to remember! AMEN.
With hands to the plow,
Pastor Theresa