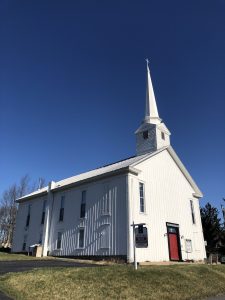 177 Upper Georges Valley Road, Spring Mills, PA  16875
Communion Service 1st Sundays
Message by Phone:  814-422-6238
Online worship:  Sundays 8:30am Facebook Live – Scripture & Message only and Family Service available online
Note:  We encourage the wearing of masks.  We offer grace and mercy for any who have difficulty wearing masks.  Our sanctuary seating offers more than 6ft. distancing.  We are open and available to all who prefer in person worship and offer online services and by phone sermons at 1-814-422-6238 for any who are not yet ready to return. Sprucetown UMC believes Christ meets us where we are and accepts us as we are.  As followers of Christ we must do the same.  Come, and worship with us.
Holy Week Services:
Palm Sunday is March 28th – 11am service Come and get your palm cross.
Holy Thursday is April 1st – "Dining with the Prince of Peace" Service begins at 7pm and is hosted at St. James UMC, Coburn
Easter Sunday Resurrection Service is April 4th – 10:30am service with special gift for the children.  [Note the service time is 10:30am, not our usual time of 11am.]  There will be a simple breakfast of muffins, donuts, coffee and more at 9:30am in the fellowship hall downstairs.  Please join us for breakfast and stay for worship!
Theresa M. Heiser, Pastor
Phone:  814-883-9510
Pastor's Mailing address:  PO Box 211, Centre Hall, PA  16828
Offerings may be mailed to Tawnya Childs, offering coordinator, at 133 B. Dobson Drive, Centre Hall, PA 16828.
Meetings:
Ad Board meets the 1st Tuesday of the month at 7pm – Except Jan – Feb – Mar when they meet following the monthly potluck luncheon the second Sunday.
Penns Valley Charge SPRC meetings
1st Quarter:  Jan 13 2021 7pm at Sprucetown UMC
Penns Valley United Methodist Charge Officers for 2021

Charge SPRC Chair      vacant
Charge Treasurer        Kathy Highbaugh  (St. James Coburn)
Charge Secretary         Tawnya Childs  (Sprucetown)
Lay Member to Annual Conf.              Beth Brown (Sprucetown UMC)
Lay Member to Annual Conf.              Randy Muthersbaugh (Faith UMC)
Lay Member Alternate #1                   Kathy Highbaugh  (St. James UMC)
Lay Member Alternate #2                   Kelly Trozzo  (Sprucetown UMC)
Sprucetown United Methodist Church Officers for 2020

Ad Council Chair                               Teresa Leiby
Ad Council Co-Chair                         Claude Witmer
Treasurer                                           Wanda Hockenberry
Asst. Treasurer/Finance Chair       Jean deMin
Audit Committee                               Jean deMin, Tawnya Childs, Julia Franklin
Ad Council Secretary                        Tami Spotts
Education Chair                                 Betty Smeltzer
Church Historian                               Beverly Foust
Membership                                       Julia Franklin
Safe Sanctuaries Coordinator         Teresa Leiby
Safe Sanctuaries Advocate              Betty Smeltzer
Trustees Chair                                    Andy deMin
Trustees          Off in 2020                 Mark Leiby, Harry Hockenberry
Off in 2021                  Andy deMin, Chris Spotts
Off in 2022                  Neil Foust, Teresa Leiby
Organist/Worship Chair                   Janet Zerby
Lay Leader                                          Tawnya Childs
Co-Lay Leaders & Liturgists            Tawnya Childs, Wanda Hockenberry,
Teresa Snyder-Leiby
Charge SPRC Representatives
Off in 2020                  Tawnya Childs
Off in 2021                  Julia Franklin
Charge SPRC Alternate 1                     Claude Witmer (2022)
Charge SPRC Alternate 2                     Betty Smeltzer  (2023)
Lay Member to Annual Conference   Beth Brown
Charge Audit Committee Reps           Tawnya Childs, Nancy Witmer