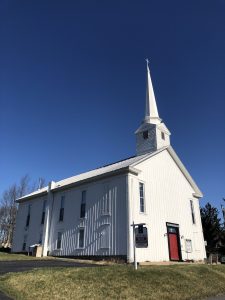 177 Upper Georges Valley Road, Spring Mills, PA  16875
Communion Service 1st Sundays with individual bread & cup chalices
Listen to the latest message by phone 24/7 at 814-422-6238
Please join us for Worship at 11am
Watch our services live via Zoom! Click the link shortly before or at worship time and PLEASE mute your microphone.
11am ET – Sprucetown UMC, Potters Mills/Spring Mills
Our latest recorded service…
Theresa M. Heiser, Pastor
Phone:  814-883-9510
Pastor's Mailing address:  PO Box 211, Centre Hall, PA  16828
Offerings may be mailed to Tawnya Childs, offering coordinator, at 133 B. Dobson Drive, Centre Hall, PA 16828.
Events:
Monthly potluck lunch – Bring a covered dish to share the 2nd Sunday of the month (September – April) and join us for lunch after worship!  All are welcome!
Sept 13, 2021 – Penns Valley Charge Staff Parish Relations Committee meets 7pm at Faith
Oct. 3, 2021 – Guest Speaker Edie Hertzog presents a special message for World Communion Sunday
Oct. 11, 2021 – Homecoming Sunday with guest speaker Isaac Balban, potluck luncheon follows.  Bring a covered dish to share! 
Oct. 16, 2021 – Fall Bazaar 9am-2pm, find a wide selection of gently used items, crafts, food items ("to go" only), baked goods and more!
Nov 7, 2021- Potluck Dinner and Comedy Club Night – Bring a covered dish to share and enjoy one of the hysterical videos from the Thou Shalt Laugh series!  Come prepared to eat at 5:30pm.  Invite your friends and neighbors to this just for fun event!
Dec. 1, 2021 – Gingerbread House Party Night – Decorate an awesome pre-constructed gingerbread house with all supplies and expertise provided by pastry chef Heather Luse!  $35 per house.  Reserve early, limited to 25 total.  Refreshments provided.  Click here to reserve your spot.
Meetings:
Ad Board meets the 1st Tuesday of the month at 7pm – Except Jan – Feb – Mar (when we meet following the monthly potluck luncheon the second Sunday)
Penns Valley Charge SPRC meetings begin at 7pm

1st Quarter:  Jan 13 2021 7pm at Sprucetown UMC
2nd Quarter: May 3, 2021 7pm at Trinity UMC, Woodward
3rd Quarter: September 13, 2021 at Spring Mills Faith UMC
4th Quarter:  October 27, 2021 at St. James UMC
Penns Valley United Methodist Charge Officers for 2021

Charge SPRC Chair      vacant
Charge Treasurer        Kathy Highbaugh  (St. James Coburn)
Charge Secretary         Tawnya Childs  (Sprucetown)
Lay Member to Annual Conf.              Beth Brown (Sprucetown UMC)
Lay Member to Annual Conf.              Randy Muthersbaugh (Faith UMC)
Lay Member Alternate #1                   Kathy Highbaugh  (St. James UMC)
Lay Member Alternate #2                   Kelly Trozzo  (Sprucetown UMC)
Sprucetown United Methodist Church Officers for 2021 – Click for Mission InSite Report
Ad Council Chair                               Teresa Leiby
Ad Council Co-Chair                         Claude Witmer
Treasurer                                           Wanda Hockenberry
Asst. Treasurer/Finance Chair       Jean deMin
Audit Committee                               Jean deMin, Tawnya Childs, Julia Franklin
Ad Council Secretary                        Tami Spotts
Education Chair                                 Betty Smeltzer
Church Historian                               Beverly Foust
Membership                                       Julia Franklin
Safe Sanctuaries Coordinator         Teresa Leiby
Safe Sanctuaries Advocate              Betty Smeltzer
Trustees Chair                                    Andy deMin
Trustees          Off in 2020                 Mark Leiby, Harry Hockenberry
Off in 2021                  Andy deMin, Chris Spotts
Off in 2022                  Neil Foust, Teresa Leiby
Organist/Worship Chair                   Janet Zerby
Lay Leader                                          Tawnya Childs
Co-Lay Leaders & Liturgists            Tawnya Childs, Wanda Hockenberry,
Teresa Snyder-Leiby
Charge SPRC Representatives
Off in 2020                  Tawnya Childs
Off in 2021                  Julia Franklin
Charge SPRC Alternate 1                     Claude Witmer (2022)
Charge SPRC Alternate 2                     Betty Smeltzer  (2023)
Lay Member to Annual Conference   Beth Brown
Charge Audit Committee Reps           Tawnya Childs, Nancy Witmer