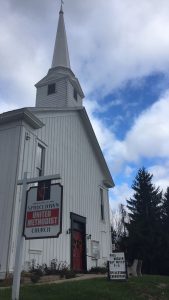 Join us for Sunday worship at 11am.
Adult Sunday School 10am in the followship hall
177 Upper Georges Valley Road, Spring Mills, PA  16875
Mailing address:  PO Box 211, Centre Hall, PA  16828
Communion Service 1st Sundays
Monthly Potluck Fellowship Luncheon after worship second Sundays, September – March and Breakfast Easter Morning
Theresa M. Heiser, Pastor
Visit our website | Visit our facebook page
Events:
Renewing Waters Baptism and Professions of Faith service October 20, 2019 – A service that allows all who are called to commit their lives to Christ through the water of baptism, renewal of baptismal vows and to join the church through profession of faith.  See Pastor Theresa if you want to learn more.
Pizza with the Pastor at The Potter's House Nov. 1 6:30pm Hang out with Pastor Theresa, eating pizza and watching "A Journey to the Potter's House" with special permission from the artist, Michael Ferris. This event is not intended for ages 15 and under.  Preview a sample here:
Coffee, Treats & Three Simple Rules Study Nov. 4, 11, 18   7-8:30pm   Learn the basics of the United Methodist faith with the Coffee, Treats and Three Simple Rules study led by Pastor Theresa. This video and discussion format allows us to have a relaxed, casual chat over coffee and treats as we consider John Wesley's three simple rules as a way of living.  Open to youth (grade 7 and up) and adults. Anyone may participate, whether you belong to this or any church or no church. All welcome!  If you are able, bring a treat to share, but it is not required.
Potluck Lunch Sunday & Operation Christmas Child Shoebox Assembly Day November 10, 2019 – Bring a covered dish to share at lunch following the service.  And after the meal, help to put together the shoeboxes for Samaritan's Purse.
Gingerbread House Decorating night with Heather Luse December 4, 2019 7-8:30pm.  Cost is $35 and RSVPs are needed by Nov. 29, 2019.  Payments may be made the night of the event and directly to Heather Luse.
Potluck Lunch Sunday December 8, 2019 – Bring a covered dish to share at lunch following the service.
Christmas Eve Candlelight Communion Service December 24, 2019 8pm
2020 Events to be listed upon completion…
Meetings:
Ad Board meets the 1st Tuesday of the month at 7pm
Penns Valley Charge SPRC meetings for 2019:
4th quarter:  Oct. 22, 7pm at Trinity UMC, Woodward
Penns Valley United Methodist Charge Officers for 2019
Charge SPRC Chair: Molly Buchanan (Trinity)
Charge Treasurer: Kathy Highbaugh (St. James Coburn)
Charge Secretary: Tawnya Childs (Sprucetown)
Lay Member to Annual Conf.: Teresa Leiby (Sprucetown)
Lay Member to Annual Conf.: Molly Buchanan (Trinity)
Lay Member Alternate #1: Kathy Highbaugh (St. James Coburn)
Lay Member Alternate #2: (none)
Charge Audit Committee:
Russell Beaton (Spring Mills Faith)
Tawnya Childs, Nancy Witmer (Sprucetown)
Rosanna Mersinger (St. James Coburn)
Dave Atkins, Sam Derugen (Trinity Woodward)
Sprucetown United Methodist Church Officers for 2019
Ad Council Chair: Teresa Leiby
Ad Council Co‐Chair: Claude Witmer
Treasurer: Wanda Hockenberry
Assistant Treasurer: Jean deMin
Lay Leader: Nancy Wells
Trustees Chair: Andy deMin
Finance Chair: Jean deMin
Ad Council Secretary: Carol Eberly
Organist/Worship Chair: Janet Zerby
Education Chair: Betty Smeltzer
Safe Sanctuaries Coordinator: Teresa Leiby
Safe Sanctuaries Advocate: Betty Smeltzer
Trustees Off in 2019: Neil Foust, Teresa Leiby
Off in 2020: Mark Leiby, Harry Hockenberry
Off in 2021: Andy deMin, Chris Spotts
Charge SPRC Representatives
Off in 2019: Nancy Wells
Off in 2020: Tawnya Childs
Charge SPRC Alternate 1: Julia Franklin
Charge SPRC Alternate 2: Claude Witmer
Lay Servant: Nancy Wells
Co‐Lay Leaders/Liturgists: Nancy Wells, Tawnya Childs, Tyler Eberly, Wanda
Hockenberry
Audit Committee: Jean deMin, Tawnya Childs, Julia Franklin
Church Historian: Beverly Foust
Membership: Julia Franklin