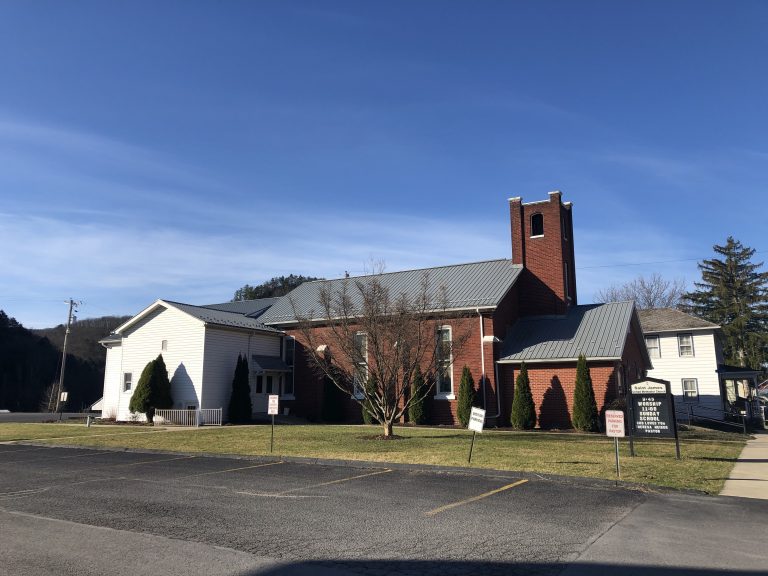 Join us for Sunday worship at 9:45am
Sunday School following the service
Communion Service 1st Sundays
Instagram  |  Facebook  |  YouTube
Church Physical address:
501 Main Street, Coburn, PA 16832
Message by Phone:  814-422-6238
Online worship:  Sundays 8:30am Facebook Live – Scripture & Message only and Family Service available online
Offerings may be sent to the Church Mailing address:  PO Box 90, Coburn, PA 16832
Theresa M. Heiser, Pastor
Phone: 814-883-9510
Pastor's Mailing address: PO Box 211, Centre Hall, PA 16828
Announcements:
Penns Valley Charge Conference is Sunday, November 15, 2020 at Trinity UMC, Woodward.  Full members of the church will vote for officers and pastoral compensation, and report approvals.  Anyone may attend.  Please wear a mask. 
Consider serving the church on a committee or as an officer.  View the officers list for 2021.  Questions?  Contact Pastor Theresa.
SECURITY IMPROVEMENTS INFORMATION FOR REVIEW
Events: (Will resume after the reopening of the church)

Ladies Coffee & Conversation every first and third Thursday at 9:30am in the meeting room.  All ladies from anywhere are welcome to chat and sip and bring a treat to share!  Always a great time! Resumes July 2, 2020
Soup Kitchen the 4th Tuesday of the month (September – May) in the meeting room.  Helpers needed to prepare soup and deliver it to our shut ins.  To learn more, talk to head soup chef Paula Smith.
Youth Pizza Study is held one Sunday a month September through April from 5-6:30pm. Click here for all the details!
Deep Blue Adventure Saturday School for ages 3 and up are held one Saturday a month September through April from 10-11:30am.  Click here for more information.  Volunteers are needed.  Please see Pastor Theresa to sign up.
MEETINGS
Trustees meet 6:30pm the 1st Wednesday in January, March, May, July, September, November
Ad Board meets 7pm the 1st Wednesday in January, March, May, July, September, November
Saint James Coburn United Methodist Church officers
Lay Leader                                          Chris Hazel
Asst. Lay Leader                                Alma Confer
Financial Chair                                  Michele Breon
Treasurer                                            Tammie Strouse
Church Council Chair                       Paula Smith
Church Council Secretary                *_not filled to date_
Safe Sanctuaries Advocate               Rosanna Mersinger
Safe Sanctuaries Coordinator  Kathy Highbaugh
Trustees          Off in 2020          Nash Shawver (youth rep), Kathy Highbaugh
Off in 2021            Larry Breon, Carson Boob
Off in 2022            Eileen Clark, Vivian (Biff) Myers
Charge SPRC   Off in 2020          Kathy Highbaugh
Off in 2021            Jan Artley
Charge SPRC Alternate 1           Sonja Kuppel
Charge SPRC Alternate 2           Paula Smith
Lay Leadership   Off in 2020    Delores Rishel, Kathy Highbaugh
Off in 2021        Shirley Zimmerman, Chris Hazel
Audit Committee                        Tom Corman, Rosanna Mersinger
Membership                                Kathy Highbaugh
Penns Valley Charge SPRC meetings
1st Quarter:  Jan 14 2020 7pm at Sprucetown UMC
2nd Quarter: May 19th 7pm at St. James UMC, Coburn
3rd Quarter: September 22nd at 7pm at Faith UMC
4th Quarter: November 2nd 7pm at Trinity UMC, Woodward
Penns Valley United Methodist Charge Officers for 2020

Charge SPRC Chair                              Molly Buchanan (Trinity)
Charge Treasurer                                Kathy Highbaugh  (St. James Coburn)
Charge Secretary                                Tawnya Childs  (Sprucetown)
Lay Member to Annual Conf.          Gary Sundy (Trinity)
Lay Member to Annual Conf.          Beth Brown (Sprucetown)
Lay Member Alternate #1                Molly Buchanan  (Trinity)
Lay Member Alternate #2                Kathy Highbaugh  (St. James)