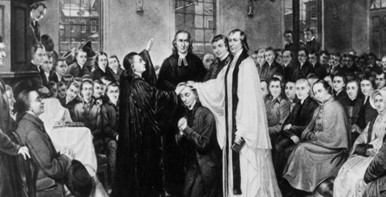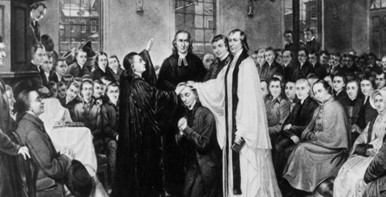 The Methodist movement began in 18th century England. But when The Church of England refused to ordain some of John Wesley's Methodist preachers preparing to be sent to America, God made a way. There was urgent need because The Church of England's priests had returned home leaving no one in America to administer the sacraments to the Methodists.
In 1784 John Wesley sent a message to Thomas Coke which he shared with Francis Asbury. Wesley appointed Coke to ordain Asbury and appoint him superintendent of a new Methodist denomination to be set up in America. With only 40 days till the conference, Freeborn Garrettson (called the Paul Revere of Methodism) mounted his horse and set out to alert the pastors. "My dear Master enabled me to ride about 1,200 miles in about six weeks," Garrettson wrote in his journal.
On December 24, 1784, every Methodist preacher in America traveled from their home parishes to Lovely Lane Chapel in Baltimore, MD where they would spend ten days at what would be known as The Christmas Conference. Thomas Coke recorded that 81 people met at the Lovely Lane Chapel and that, "nearly 60 of them" were "American Preachers…most of them young". Among those in attendance, Coke, Richard Whatcoat and Thomas Vasey (two whom Wesley had ordained in England weeks earlier) were the only clergy and the rest of the conference members, including Asbury, were lay preachers. That is, until Christmas Day when Asbury was ordained a deacon. Asbury was ordained an elder the next day and consecrated as a general superintendent the third. Asbury insisted that the conference elect him to the role of superintendent rather than accepting the servant leadership role by Wesley's appointment.
Our church was not blessed by any high church in England. It was established through the prayerful work of lay people who were willing to sacrifice their Christmas time and energy to allow God to work in and through them to bring about something new. This is our heritage! Lay persons are not the audience at church who leave ministry up to the pastor. You ARE the church who is expected to do the work the Church does! What a gift! Praise be to God!
I believe God is calling His Church to do the work the Church does, to listen for His still small voice, and work together to bring about something new with gratitude and praise for those who have come before, doing the work the church does with God's help. We are ALWAYS moving on to perfection. May God richly bless you and your family this Christmas and may something new be established in you!
With hands to the plow,
Pastor Theresa